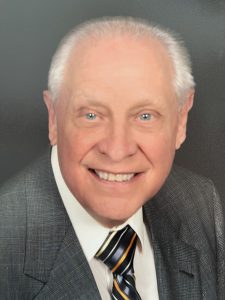 At the youthful age of 87 on Sunday, January 9, 2022 our beloved, devoted, husband, father, father-in-law, grandfather, and godfather was born to Eternity at his house after a short battle with cancer. He leaves behind his sister, Sr. Philip Marie Burle, his daughters and their significant others, and grandchildren.
John was born on December 21, 1934 to Philip Raymond & Mary Simon Burle, who preceded him to eternity. He preceded his love Jane T (Davis) Burle to eternal life. September 17, 1960 Philip John Burle married the love of his life, Jane Theron Davis. The Lord blessed them with 60 years as one heart. Within their spirit and love for each other they were blessed with five daughters Anne Allen, Mary Clare Galarza, Ellen Beuhler, Marlene Burle, and Joan Shoeffel. John was a very loving, supportive and wonderful grandfather to many grandchildren.
Our devoted beloved John was raised in South City St. Louis, Epiphany Parish. John  and Jane raised their family in the parish of St. Ann's Catholic Church in Normandy. He graduated high school from McBride. He then went into the National Guard where he served in the reserves. He supported his family as an Insurance underwriter. 
In 1989 John and Jane moved to Fenton and Sacred Heart parish in Valley Park where they took root and became active pivotal members. He had a devout devotion to St. Joseph and the Holy Mother through the rosary. Other loves of John's included his family, friends, the Lake of the Ozarks, playing cards, dancing, and traveling.
Date:               Saturday, January 15th, 2022
Location:        Sacred Heart Catholic Church
17 Ann Ave, Valley Park, MO 63088
Time:              10:30am – invitation to say the rosary with the Burle family
11:00am – Mass
If you are unable to physically attend, please join us via live stream.
Links:
Facebook: https://www.facebook.com/pg/SacredHeartParishVP/videos
Youtube: https://www.youtube.com/channel/UC7kbT_cV-vyKB4wdqsyrnJw/videos
Memorials: John took great pride in working with St. Vincent DePaul Society (SVDP) at both Sacred Heart and St. Ann's parish. In lieu of flowers, donations can be sent to Sacred Heart Saint Vincent de Paul or St. Ann Saint Vincent de Paul