Urn Facts To Know For Cremation Service Options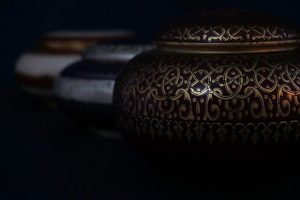 While you might know what a cremation service in St. Louis, MO is, if you're being honest with yourself, you don't know everything related to that service. Not everyone has to plan these services regularly. In fact, most people don't. But when the time comes for you to plan something for a loved one, you might want to know more about cremation and more about the urn options that will be presented to you. It's nice to know that when you get a cremation package for a loved one, that's all you have to do. Their needs will be met from transportation all the way through the container they need for their remains. While it's not required to buy an urn, many families do go that route. Here are some facts to know about that product in case you want to know more about it.
Exterior Measurements Matter For Placement
If you are going to keep your loved one's urn in the family home, or just want to place it somewhere at the memorial service you might have for them, the exterior measurements are something you will want to know so you can plan ahead to place it in the right location.
Capacity Is Important For Space
As far as your loved one goes, the capacity of the urn is what is going to be most important to them. The capacity is how much space is on the inside of the urn. They will need a certain size, based on their height and weight, and the professionals can advise you as to what capacity they will need so you can look at urns that size or larger.
Providers Transfer Remains For You
Once you have the urn, the providers will place your loved one's remains in it for you. Even if you didn't get an urn right away and placed your loved one in a simple container after their cremation, they can transfer their remains into the urn once you have it.
Urns Are Containers
In their basic form, urns are just containers. That means that while you can buy an urn for cremated remains, you can use other things as well. Some people use special cookie jars, tackle boxes, and a variety of other things. You can talk to the cremation providers about other items that can suffice as a container.
Outside Vendors Can Provide Urns
While the providers are always going to have a lot of options, you don't have to buy them from those professionals. You can get an urn from any outside vendor and the provider will still use it. They just want you to get what you'd like to have for your loved one, no matter what that might be.
Urns Can Be Purchased In Advance
Most people buy urns for loved ones who have passed away, but if you decide to plan out your cremation service in St. Louis, MO in advance, you can also purchase an urn at that time, if you choose to do so.